calligraphy 40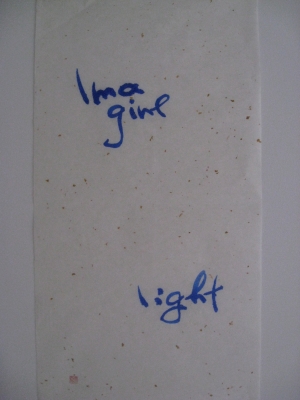 These , "Imagine" and "Light", are Ms. Irene Di Maggio's favorite words.
She told me, quote, "Imagine ; When I think of this word in English, I can close my eyes and fly with the imagination, felling the world around me, maybe dreaming about another world..." "Light ; in my opinion light means colors, an important part of our life and for me means also cinema, an important part of my life : cinema is a way to capture the light and to reproduce the images and the colors of our world.".
She comes from Italy.
She is a documentarist and is in her 30's.
You can see my work more below.
www.haruyasuyanagi.com
Copyright(c) 2011 Haruyasu Yanagi All rights reserved.