calligraphy 37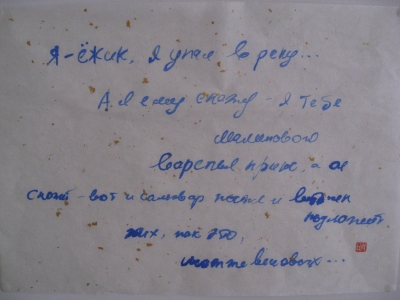 This is Ms. Evgenia's favorite words.
She told me, quote, It's the sentence from a very famous Russian animation - thoughts of a hedgehog to his friend - a bear : "I'm a hedgehog. I fell in the river . . . And I'll tell him : "I brought you a raspberry jam." He'll answer : " So, a samovar is ready" And he'll put some juniper branches . . .
She is Russian.
She is a medical doctor and is in her 30's.
You can see my work more below.
www.haruyasuyanagi.com
Copyright(c) 2011 Haruyasu Yanagi All rights reserved.